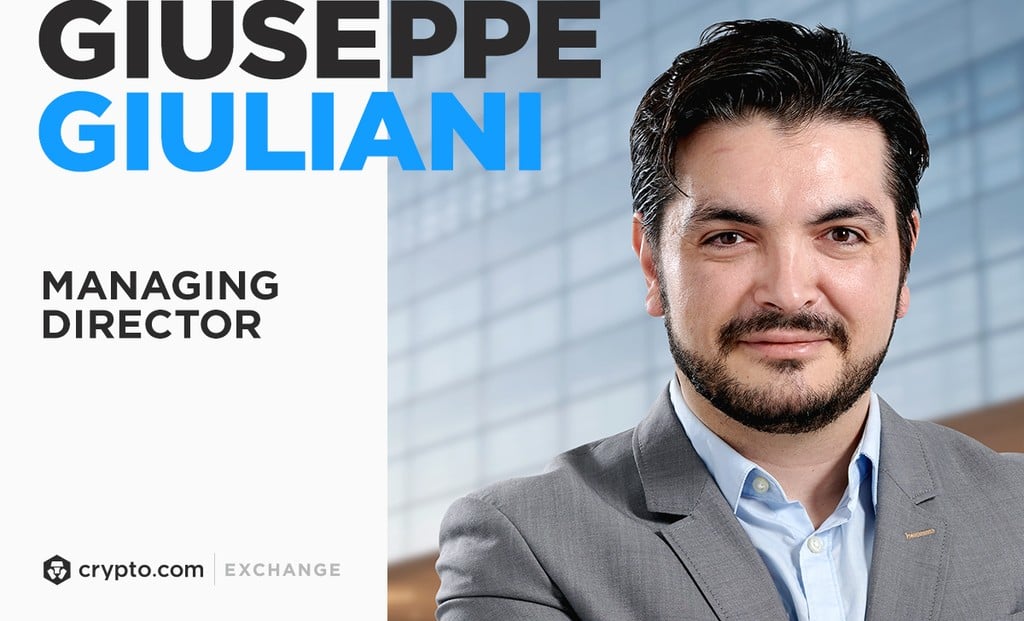 SINGAPORE, February 1st, 2022 – Today Crypto.com, the world's fastest-growing cryptocurrency platform, announced it has named Giuseppe Giuliani as managing director of the Crypto.com Exchange. Giuliani brings to Crypto.com extensive experience in both legacy finance and cryptocurrency to the company. He comes to Crypto.com from Kraken where he was global head of institutional relationships & services leading the global sales team for nearly four years and has held a range of roles at early stage, high-growth startups and in traditional finance. 
In his new role, Giuliani will focus on the continued growth of the Crypto.com Exchange, the world's fastest and most secure crypto trading platform, and its professional trading products. He will also oversee and expand the Exchange's current client base into new markets, introduce new features and services for institutional players and crypto traders, and continue to educate the community about crypto as an asset class and its role in today's financial markets.
"There has been no better time for me to join Crypto.com, as the company is positioned to become the leading force within the crypto industry," said Giuliani. "I am excited to be a contributor in helping the company accomplish its mission of accelerating the world's transition to a new inclusive and more equitable financial system and to keep driving the company's growth forward." 
"Giuseppe is a unique talent and with his background in both crypto and finance, we are thrilled to welcome him to the team at such an exciting time," said Kris Marszalek, co-founder and CEO at Crypto.com. "The Crypto.com Exchange has quickly become one of the leading trading platforms and with Giuseppe's experience, it is well-positioned to continue bridging the legacy financial industry with the cryptocurrency economy and help increase the number of crypto users in the next few years."
The Crypto.com Exchange features the fastest matching engine in the industry, supporting 2.7 million transactions per second, ultra-low core latency of 50 microseconds and 5ms end-to-end for consumers. It is powered by CRO, and features deep liquidity, low fees and best execution prices. Trading volume on the Crypto.com Exchange rose 316% between Q2 and Q3 of 2021, according to data from CoinGecko. Global adoption of cryptocurrency is continuing to grow, as Crypto.com Research revealed the number of global crypto users has grown to 295 million from 221 million in June 2021. 
About Crypto.com
Founded in 2016, Crypto.com serves over 10 million customers with the world's fastest growing cryptocurrency and financial services platform. Crypto.com is built on a foundation of security, privacy and compliance and is the first cryptocurrency company in the world to have ISO/IEC 27701:2019, ISO27001:2013 and PCI:DSS 3.2.1, Level 1 compliance, and independently assessed at Tier 4, the highest level for both NIST Cybersecurity and Privacy Frameworks, as well as Service Organization Control (SOC) 2 compliance.
With over 3,000 people in offices across the Americas, Europe and Asia, Crypto.com is accelerating the world's transition to cryptocurrency. Find out more: https://crypto.com