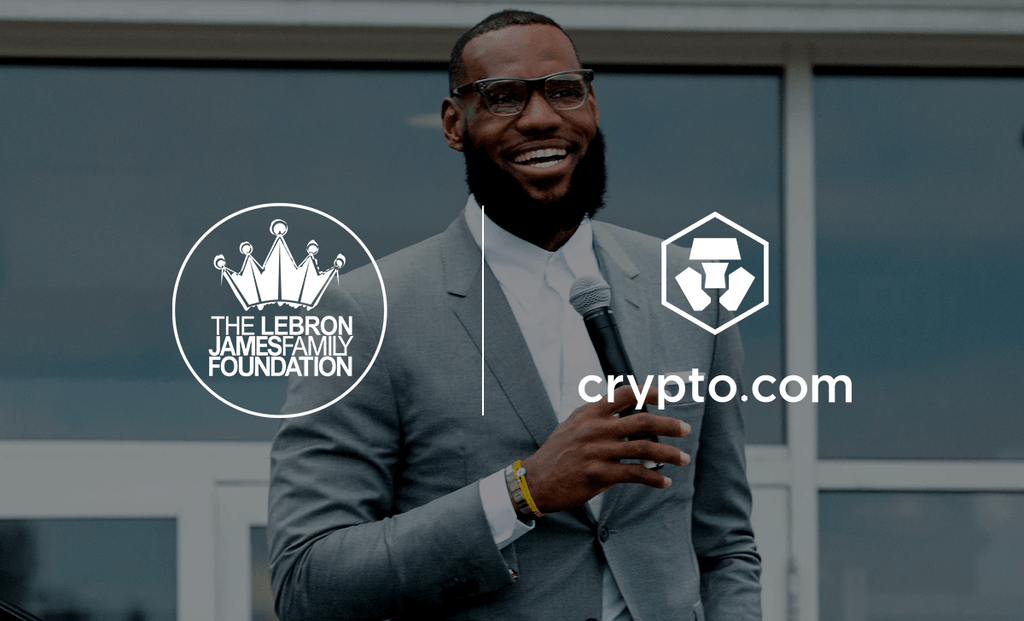 January 28, 2022 – Crypto.com, the world's fastest growing cryptocurrency platform, is partnering with LeBron James and the LeBron James Family Foundation (LJFF) to support educational and workforce development opportunities focused on Web3. Building on a strong basis of educational empowerment, the partnership will give students and families connected to the I PROMISE program access to the tools and educational resources needed to participate and succeed in building Web3, the future of the internet.
Web3 promises to deliver a more fair and equitable internet, owned by the builders, creators and users. That promise can only be realized through the active engagement of diverse participants. Through this partnership, I PROMISE students and families will get a strong foundation in Web3 and the innovations behind blockchain-based decentralized applications powering the future of many sectors from finance to media to art. In bringing Web 3 educational resources and workforce development through his Foundation, James continues to build his community from the ground up and create a model for supporting the underserved. 
"Blockchain technology is revolutionizing our economy, sports and entertainment, the art world, and how we engage with one another. I want to ensure that communities like the one I come from are not left behind," said James. "Crypto.com and I are aligned on the need to educate and support my community with the information and tools they need for inclusion. I'm looking forward to working with them to bring these opportunities to my community."
"LeBron James and his foundation have been pioneers in truly transforming the lives of those in his community through education and our partnership is based on a true alignment of values," said Kris Marszalek, Co-Founder and CEO of Crypto.com. "We couldn't be more proud to join LJFF in providing opportunities to increase educational and workforce development while delivering the tools and access that will empower the next generation to build a better and more inclusive future."
Opening doors and creating opportunities across various sectors is central to the work the LJFF does with the students and families served through the I PROMISE program. From hands-on experiences at major companies to behind-the-scenes tours in different industries, James strives to expose students to job opportunities and career paths they may have never known existed. As part of the Foundation's commitment to workforce development, they are currently building out plans for House Three Thirty – an innovative, multi-use space for I PROMISE families and the entire community to gather and engage in immediately impactful programming. House Three Thirty will convene critical community resources under one roof including family financial health programming that is easily accessible and tailored to help families take control of their financial futures as well as job training opportunities in various sectors. Through partnerships like this with Crypto.com, James is able to expand the scope of what is offered at House Three Thirty, giving his students and their families knowledge and understanding of different sectors as they explore their passions and think beyond their horizons to consider what is possible for their future.
Crypto.com is committed to building the future of the internet where the power of cryptocurrency is fair and equitable and the potential rewards of the technology are owned by builders, creators and users alike. Through partnerships with the LJFF, Water.org and Angel City Football Club, among others, Crypto.com is joining forces with like-minded businesses, nonprofit organizations, individuals and institutions equally committed to helping people achieve financial independence and self-determination.
About Crypto.com
 Founded in 2016, Crypto.com serves over 10 million customers with the world's fastest growing cryptocurrency and financial services platform. Crypto.com is built on a foundation of security, privacy and compliance and is the first cryptocurrency company in the world to have ISO/IEC 27701:2019, ISO27001:2013 and PCI:DSS 3.2.1, Level 1 compliance, and independently assessed at Tier 4, the highest level for both NIST Cybersecurity and Privacy Frameworks, as well as Service Organization Control (SOC) 2 compliance.
With over 3,000 people in offices across the Americas, Europe and Asia, Crypto.com is accelerating the world's transition to cryptocurrency. Find out more: https://crypto.com
About the LeBron James Family Foundation
With a commitment to redefining community and building stronger families, The LeBron James Family Foundation invests its time, resources and passion into creating generational change for kids and families through a focus on education and co-curricular educational initiatives. With its foundational I PROMISE Program, LJFF serves more than 1,600 students and their entire families by providing them with the fundamental resources, wraparound supports and family programming they need for success in school and beyond. In 2018, the Foundation built all of its family-first programming and academic interventions into the groundbreaking I PROMISE School that has created a new model for urban, public education. The Foundation has layered in additional resources including higher education and family supports at the I PROMISE Institute, transitional housing at the I PROMISE Village, long-term affordable housing at the upcoming I PROMISE Housing, job training and financial health programming at House Three Thirty, and several hands-on supports in between. These life-changing resources, combined with the Foundation's "We Are Family" philosophy, are re-defining what a family and community looks like.
To learn more about our story, visit https://www.lebronjamesfamilyfoundation.org.